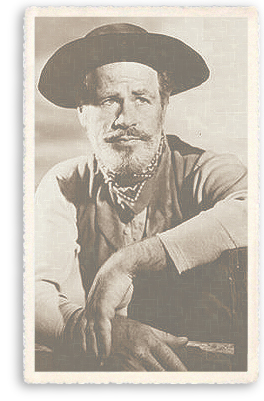 Paul Brinegar (Rawhide)

I just finished watching the last episode of the fourth season of the classic Western, Rawhide. I have spent the last few months watching episodes of this series while having my daily lunch break, and by gosh, what a great series it was!

Following the Sedalia Trail, Gil Favor (Eric Fleming) leads a band of cowpokes driving their herd to market. The outfit crosses paths with good guys and bad guys along the way in this 1950s Western series that features a memorable theme sung by Frankie Laine. The supporting cast includes a young Clint Eastwood (who gained fame for his portrayal of ramrod, Rowdy Yates), Sheb Wooley (as trail scout, Pete Nolan), and Paul Brinegar (as the grizzled mountain-man-turned-drive-cook, Wishbone).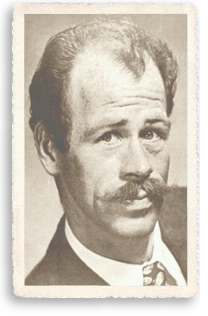 Paul Brinegar was born December 19, 1917, in Tucumcari, New Mexico. When he was a small child, the family relocated to Alamagordo, then Las Cruces, and finally to Santa Fe, where Paul started acting in high school plays. After he graduated in 1935, Brinegar migrated to Pasadena, California, where he attended Pasadena Junior College, studying drama, literature and art. In college, his first stage success was in the role of Andy Hardy, and of that he remarked, "...before it was done by Mickey Rooney!"

Brinegar then took a break from acting and served for four years in the South Pacific as a chief radioman in the Navy during World War II. After the war, he supported himself as a radio repairman, while taking bit parts in movies. In 1948, he made his feature film debut in Larceny. From there, he launched what would become a steady film career, which only slowed down in the late 1950s, after he began appearing regularly on television.

As a character actor of both films and television, Paul Brinegar specialized in playing feisty, grizzled cowboy sidekicks. Although he is probably best known for his role on the CBS series Rawhide from 1959 to 1966, Brinegar made over 100 appearances between 1946 and 1994, appearing in many popular Western films. Some memorable roles include the barman character in Clint Eastwood's High Plains Drifter in 1973, and in 1969, he appeared in Charro! starring Elvis Presley. He was also known for playing Lamar Pettybone on the early 1980s television series Matt Houston.

But Brinegar's talents were not limited to the Western genre, as he was also seen in character roles in highly rated TV series such as Alfred Hitchcock Presents, Dragnet, The Loretta Young Show, The George Burns Comedy Theatre, and Racket Squad. His first big break in TV came when he was cast as the mayor of Dodge City in the Wyatt Earp series starring Hugh O'Brian. Brinegar said, "After that series, it just opened up for me."

When Brinegar appeared in the film, Cattle Empire, which was directed by Charles Marquis Warren (the producer of Rawhide), Warren decided he would be the ideal actor to fill the role of the camp cook. "I love the role," Brinegar said of the character G.W. Wishbone (G.W. stands for George Washington) in 1959. "My appearance always suited me more for character roles than straight or romantic parts."

Although he was portraying a 65-year-old man in the series, Brinegar was only 41 at the time the show was first filmed. When his hair started turning gray at the age of 32, he began to appreciate his receding hairline and craggy, lined face as profitable attributes in the acting business. The popular role of Wishbone (from Rawhide) followed Brinegar during his career, and was loosely carried over into the 1968-1970 CBS Western series, Lancer, in which he played the character of ranch handyman, Jelly Hoskins.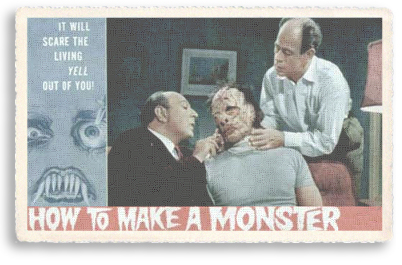 An interesing turn in Brinegar's career came in the mid-1950s, when producer Herman Cohen cast him to co-star in How To Make a Monster. Brinegar also appeared in several other horror films, such as World Without End (1956) and The Vampire (1957).

Brinegar won the Bronze Rangler Award (along with the rest of the cast of Rawhide) in 1961, 1962 and 1964. He won the Golden Boot Award in 1994, for his efforts to further Westerns on television and in film. In his private life, Brinegar served as honorary sheriff and fire chief of Granada Hills, Californa.

With acting credits far too numerous to list here, among them he appeared in 226 episodes of Rawhide, 51 episodes of Lancer, 38 episodes of Wyatt Earp, and 13 episodes of Matt Houston.

In 1994, Brinegar made his final big screen appearance (as a stagecoach driver) in the film version of Maverick (starring Mel Gibson and James Garner), along with many colleagues from classic Western shows of the 1950s.


Meeting Mr. Brinegar

Although I am the big Rawhide fan, my cousin Aimee came in contact with Ward Brinegar (Paul's nephew), which led to telephone conversations with Mark Brinegar (Paul's son) and Shirley Brinegar (Paul's wife). Shirley provided us with some lovely stories about meeting her famous husband.

Shirley Talbott was living in Hollywood in March 1962, modeling and doing commercial work. She was 33 when she met Paul (then 44), who was appearing in a showcase at the Call Board Theater on Melrose Avenue. Brinegar had also worked in showcases at this theater earlier in his career. Two ladies who ran the theater, had developed a good relationship with Paul over the years. Once he became better known, he came back to help out around the theater with lighting, carpentry, etc., during every production. "A Distant Bell" was the current show. One of the boys in the cast came into Shirley's dressing room the night of dress rehearsal, excitedly telling her that Paul Brinegar was there doing the lights. Shirley didn't know who he was.

When Shirley went out on stage, she noticed Paul was up on a ladder working on the lights. She thought he had the cutest butt she'd ever seen in blue jeans. When he had Shirley stand to be lighted, there was clearly a chemistry between them. Her first thought was that he was adorable, but also noticed his beard, grey sideburns and thinning hair. She thought because he was older, that he was probably married. And Shirley, herself, was romantically involved with a gentleman living on the East Coast at the time.

Brinegar kept coming back to watch the run-throughs. During a scene Shirley wasn't in, she was sitting in the front row, and Paul came and sat next to her. At the final rehearsal, he said, "Well, this is the last rehearsal, so I won't be seeing you anymore unless you give me your phone number." He wrote her number on a match box, bolted out of his chair, and ran to the office. He then came back and told her "I just wanted to check to make sure that was really your number." He had spoken to the woman who answered at the front desk.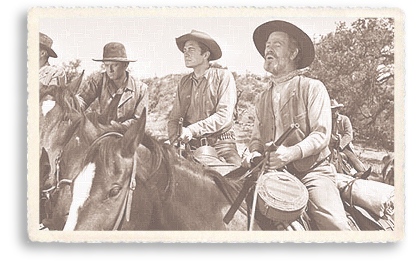 As Paul and Shirley dated, she noticed that while she had always been very quiet on dates in the past, suddenly she couldn't keep from talking. Paul would tease her about her gift of gab and called her "wench" as a nickname. He went out of his way to take her on romantic dates. Shirley found him to be a very thoughtful and considerate fellow.

One night they took a ride out on Mulholland Drive, and when they got back to her place in Hollywood, Paul leaned over and kissed her goodnight. Shirley remembers it as being brief, but most definitely electric. No sooner had their first kiss ended, when Paul jumped out of the car and said, "Get out of my car, wench!"

As time went on, Paul started talking about marriage, but Shirley was hesitant about it and felt a little cornered. She was also more than a little nervous about marrying an actor. Shirley left Hollywood and returned home that June.

But Paul Brinegar was determined to win her. She said, "That crazy actor out there has gotten me up five times for Western Union deliveries!" The telegrams would say: "When are you coming back?" "I miss you!" and "Why didn't you give me your phone number?"

Their relationship took a rocky turn at that point, because they would always end up fighting about marriage. They continued to argue about it through the summer and Brinegar would send flowers, which Shirley would have delivered to the nuns at a local church.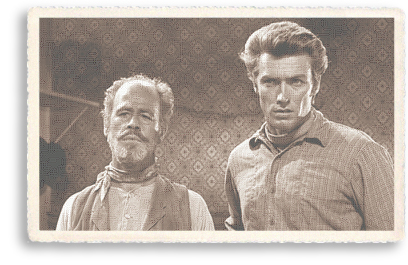 One September day, having returned to Hollywood, Shirley walked out onto Sunset Boulevard to a bus stop. Paul was parked across the street in his 1960 Daimler Dart. She walked up to the car to tell him to go away and noticed he had tears in his eyes. He asked her to go to lunch with him and she agreed. Brinegar told her that he, Clint Eastwood, and Eric Fleming were going to the New Mexico State Fair to make some personal appearances. He asked if she would come along to meet his family and she agreed.

When Shirley met Paul's parents, they struck her as being really down-to-earth, with good old-fashioned values. It was over this weekend that Shirley decided to marry Paul. Ironically, he later told Shirley that his parents had been anxious about the fact that he was dating an actress.

After Paul's last appearance at the New Mexico State Fair, Shirley wanted to take a ride on the ferris wheel. When they got to the top, the wheel stopped and Paul started rocking their seat. Shirley begged him to stop, as it was scaring her. Finally she asked him, "What do I have to do to get you to stop?" Paul said, "When you tell me you'll marry me, I'll stop." And so she did.

When Paul and Shirley returned to Los Angeles, it was finally settled. They were married at the Christian Brothers Seminary on December 29, 1962. Brinegar once told a close friend, "When I met Shirley it was so magical. She was so beautiful... she still is."

Paul Brinegar passed away on March 27, 1995, in Los Angeles, California, at the age of 77.

~Jean

P.S. A piece of information for all my fellow Rawhide fans: Shirley Brinegar also told us that Paul's favorite episode of Rawhide was "The Incident of the Black Ace" from season five, which originally aired on April 12, 1963.


Pictured top to bottom: 1) Paul Brinegar as his famous character "Wishbone" on Rawhide; 2) An almost debonair (and younger) Brinegar in a promotional photo; 3) How To Make a Monster lobby card; 4) The principal cast from Rawhide left to right: Eric Fleming, Clint Eastwood, Paul Brinegar, and Sheb Wooley; 5) A scene on horseback from Rawhide; 6) Paul Brinegar with co-star Clint Eastwood in a scene from Rawhide.

Buy Rawhide, Season One at Amazon.com
Buy Rawhide, Season Two,Volume 1 at Amazon.com
Buy Rawhide, Season Two,Volume 2 at Amazon.com
Buy Rawhide, Season Three, Volume 1 at Amazon.com
Buy Rawhide, Season Three, Volume 2 at Amazon.com
Buy Rawhide, Season Four, Volume 1 at Amazon.com
Buy Rawhide, Season Four, Volume 2 at Amazon.com


Back to The Wild West
Back to Western Funhouse
Back to Taos Unlimited
Back to Santa Fe Unlimited